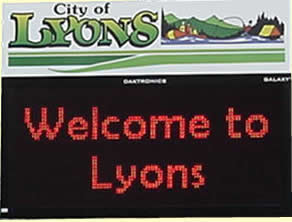 Lyons is a small town nestled in the foothills of the Cascade Mountains in Oregon. In 1880, Captain James C. Lyons and Henry Lyons, two Irish brothers, founded Lyons in the scenic North Santiam Canyon, 23 miles east of Salem. Other settlers soon followed from Scotland, Kansas and the Plains.
In the early years the timber industry and the railroad played an important role in Lyon's economy. The timber industry is still strong and in recent years the North Santiam River, which rushes along the northern side of town, has become well known for its fishing and white water recreational activities.
Lyons incorporated on December 17, 1958 with a population of 400; it has now grown to 1,207. John Neal Memorial Park, on the banks of the North Santiam, was dedicated in 1963. The Lyons Memorial Park, next to City Hall, was dedicated in 1972. A children's playground, by generous donations, was added to the park in 1996. Freres City Park is located on 13th Street by the Beaver Ponds.
Mari-Linn Grade School, the Lyons Public Library, the Santiam Valley Grange, Freres Lumber Company, various churches, clubs and retail businesses are all vital parts of our community.
Experience and Explore Linn County!
---
The People and Families of Lyons
Lyons City Information
2010 Census Demographic Profile Summary File
Of the fastest growing counties in Oregon, Linn County ranked #14 out of 36 total counties.
In Lyons, about 66% of adults are married. Lyons, compared to the great majority of similar-sized cities, is characterized by married couples rather than single adults. The size of households in the city is larger than most.
It's notable that men are disproportionately common in Lyons.
Lyons Almanac

| Category | Value |
| --- | --- |
| Near Medium City | 23 miles SE of Salem, Oregon (center to center) |
| Nearest Large City | 51 miles S of Portland, Oregon |
| County | Linn |
| Standard Zip Codes | 97358 |
| Phone Area Codes | 503 |
| Time Zone | Pacific (-8 hours from GMT) |
| Daylight Savings | The city observes Daylight Saving Time. |
| Latitude | 44.775 |
| Longitude | -122.613 |