The Founding Family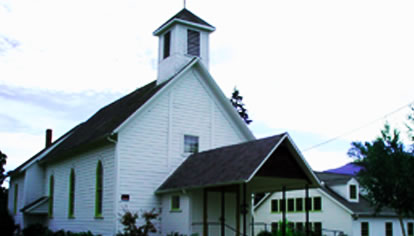 The City of Lyons is nestled in the foothills of the Cascade Mountains in Linn County. The North Santiam River, which rushes along the northern edge of town, has become well known for its fishing and white water recreational activities. The scenic North Santiam Canyon is where James C. and Henry Lyons, two Irish brothers, founded the town in about 1880. Captain James Lyons was a retired military man who served with the Union Army in the Civil War and in Indian Wars across the west.
Captain Lyons was born in Ireland and came to America in the 1850's. He purchased 160 acres in 1879 from a homesteader along the North Santiam River. He later purchased 320 acres of railroad land, then another 80 acres where the town is now located. There were homes located in the area before the Lyons brothers settled here but the land was rugged and people were few and far between. The Captain married a proud woman, known as "Queen Emma" in her later years. They had eight children; five boys and three girls.
On the family crest is printed the Latin words, "Noli Irritare Leones," meaning "don't provoke the Lions." Another man wanted the town now known as Lyons named for himself, but Captain Lyons wanted the town to be named after him. According to his children, "Jim" was an Irishman who wouldn't give in.
One crisp fall day in 1898, Captain Lyons was soaking his feet in a tub of hot water at his general store near what is now the corner of 7th and Main Street in Lyons. His ten year old son Bert was standing beside him. Crack! The glass window shattered behind him and a bullet struck the Captain in the back and killed him. The Linn County Sheriff investigated the case, but the murderer was never found. Some old timers say Captain Lyons had made numerous enemies in town and that some of the townspeople drew straws as to who would shoot him. No one knows, or is saying, who drew the fatal short straw.